Essence: January 2005
Zone: Detoxification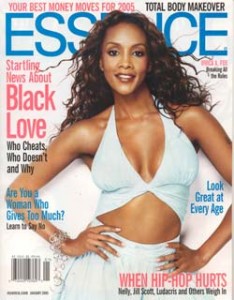 You Are What You Eat
And healthy fats, including raw nuts and seeds, cold-pressed olive oil and fish, help keep the skin looking lush, says holistic nutritionist and naturopath Sally Kravich of Los Angeles and New York City. "when we don't get good fats, we crave unhealthy ones, like those found in fried foods," she says. Cut back on white flour, sugar and processed animal foods, and minimize your intake of full-fat dairy productions (replace low-fat yogurt or sheep's or goat milk, which is more like human milk).
Juice for Life
The combination of celery and apple breaks down metabolic waste and the fats that form cellulite, Kravich says. Carrot, celery and beet juice cleanse the liver and intestines and helps clear the skin, she adds. For maximum cellulite-fighting, celery juicing which tastes somewhat salty, should take up at least half the glass, Kravich says.
Supplemental Insurance
Start with a quality multivitamin like those manufactured by Solgar or Twinlab, Kravich suggests. Add B-complex to reduce stress (use formulations containing 400 milligrams of folic acid, Kravich says); vitamin C to boost your immune system; calcium for strong bones; essential fatty acids (EFA to keep skin soft and supple and bowels moving smoothly; a "green drink" for chlorophyll, B vitamins, minerals; and acidophilus to aid digestion. Check with your physician first before starting any new juicing or supplements regimen.